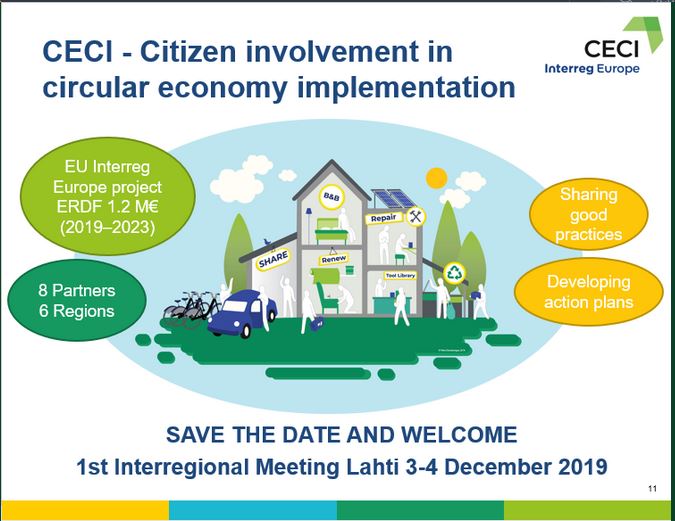 The first Interregional Event of the CECI project was organized in Lahti, Finland to kick-off the interregional cooperation on how to involve citizens in circular economy.

Altogether eight partners from six countries: Finland, France, Czech Republic, Spain, Bulgaria, Belgium and France have met for the first time. The intensive two-day programme included workshops on CECI methodology and terminology (workshop 1), activating partners in social media (workshop 2), and defining criteria for CECI Good Practices (workshop 3). Several good examples of new services for citizens as well as associations from Lahti and the Päijät-Häme region were introduced to the participants.

The 1st day of the CECI kick-off meeting in Lahti, Finland has been full of inspiring presentations and sharing good examples from partner's regions. Also, the project brochure has been revealed. The day finished in the Anttilanmäki district, where we learned about their local circular economy action plan and we enjoyed dinner in the local school.


The Day 2 of the #europeCECI interregional meeting was boosted by sporty surprise and healthy snack, then we focused on policy situation in partner regions. In the afternoon, we activated our partners and stakeholders in social media. A lot was discussed and the work will continue...

More information is available on the project website and in social media.
Follow us on Twitter under @EuropeCECI or Facebook @europeCECI.